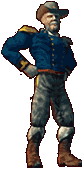 This is the homepage for the Gunman-To-Steam Patch. This patch is for Rewolf Software's retail game Gunman Chronicles to make it work properly as a Half-Life mod on Valve's Steam platform. This is to make the game playable once again as its original standalone WON incarnation has many compatibility issues with modern systems.

Download Links
Primary Mirror (57.64mb)
Alternate Mirror (57.64mb)
Installation Instructions
(This requires the original full version of Gunman Chronicles to be installed first)
Copy the rewolf folder from your WON install
(Default C:\Sierra\Gunman\rewolf )
to your Steam Half-Life folder
(Default C:\Program Files\Valve\Steam\SteamApps\common\half-life )

Extract this zip file's contents to the copied rewolf folder
(Should now be something like
C:\Program Files\Valve\Steam\SteamApps\common\half-life\rewolf )
Overwrite all files when asked.

Optionally, but recommended, run the wonfiles_cleanup.bat now in the rewolf folder to
delete about 240mb of unused space.

Start up Steam and find Gunman Chronicles listed in the games menu. Play as normal.
Gunman-To-Steam Patch Features
Steam "My Games" menu icon
High-quality startup video - Based on the DivX avi available from the Streamline Studios website, which has far greater quality than the original Bink version
New menu background - Based on original WON background
Added mini-loading screen before menu when the game is started
Edited menu color scheme
Menu music
Edited menu sounds - Used the most equivalent WON menu waves
Added miscellaneous WON things, such as sprays
High-quality MP3 game soundtrack
Demo levels integrated into full game
Includes an autoexec.cfg with a few commands that should automatically improve image quality ingame
Detail textures
Steam-Conversion Bug Fix - HEV sounds no longer play
Steam-Conversion Bug Fix - Training removed from New Game choices
Credits
Rewolf - Gunman Chronicles
Streamline Studios - High-quality DivX Gunman intro video
Maverick Developments - The Gunman demo levels
Werner Spahl - Gunman Chronicles Demo Addon
Cheese (Bonz) - Original Gunman Steam patch which I used as a reference
Besli - Help and support, providing icon, testing
Rusty Le Cyborg - Help and support, testing
Matt of HL-Improvement - Help with WON stuff
Quad - Help with detail textures
HIT Forums - General interest
All fans of Gunman Chronicles - Live on!







Ingame Quality Comparison

WON 12/29/01


Questions or Comments?
Contact Me